News and Events
Harvest 2019 began today on 9/11
Harvest is about two weeks later than usual because of the cold, wet Spring but Summer's late heat helped grapes develop the flavors we were waiting for. Winemaker, Sabrine, toasts the grapes before heading to the crush pad.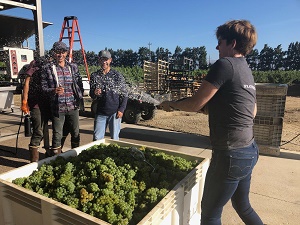 Newsweek magazine features Wrath's EX Sauv Blanc
in an article about drinking Monterey wines (while watching "Big Little Lies") and of the six wineries featured only Wrath and Hahn were actual Monterey based wineries. We were also the smallest winery highlighted so it was an honor for us to be selected for inclusion.


Wrath included in "Big Little Lies" Guide to Monterey
The second, and last, season of this super popular show is begins June 9 on HBO. Wrath winemaker, Sabrine Rodems, was invited to the premiere opening in New York City and our tasting rooms were included in a "What to Do" article about the Monterey Bay area.
ENObytes.com is a popular, respected website
focused on food, wine, and travel. Their most recent post focuses on American Syrah and if you want to learn more about this delicious varietal, this article is the place to start. We are proud to have both our Single Vineyard Syrahs included and recommended.
https://enobytes.com/2019/03/21/american-syrah-report/


World of Pinot Noir recap by Randy Caparoso
Randy Caparoso is a wine journalist whose work is frequently included in major wine publications. His writings are informed, on-point and yet, easy to understand when talking about technical topics. Click on this link to his comments about the World of Pinot Noir event held every year in Santa Barbara. If you are a Pinot lover, you owe it to yourself to attend at least once in your lifetime! If you can't make it, host your own WOPN by sourcing some of his favorite Pinots (including our Wrath San Saba Pinot) and hold your own tasting.
https://randycaparoso.blogspot.com/2019/03/high-on-acid-and-sense-of-place-at-2019.html
"50 Great Wines of 2018" by Fredric Koeppel
Fredric Koeppel's "Bigger than your Head" wine blog includes not just one but two Wrath bottles: 2015 Wrath Alta Loma Grenache ... Mr. Koeppel writes "you feel as if you're drinking the vineyard" and 2015 Wrath Tondre Grapefield Pinot Noir, "gratifying depth and breadth in a package that feels wholly complete". If you love wine, Koeppel's blog is a great resource. Few people taste, comment, and are as knowledgeable on as many wines as him: http://biggerthanyourhead.net/
D Magazine's "What to Drink Now": EX Pinot Noir 2016
Wine Journalist and Critic, Haley Hamilton Cogill says "With a hands-off approach, Wrath Wines EX Pinot Noir ($29) from their certified sustainably grown Monterey AVA San Saba Vineyard, allows the terroir to shine through their expressive wine."
Michael Cervin Chooses 2017 EX Chardonnay for his
"Wine of the Week". Noted travel, food and wine writer Michael Cervin has a great blogspot that covers all aspects of wines. As a respected wine judge for major competitions, Michael has a big picture view and shares his knowledge and notes with readers. We appreciate his comment that our vineyard produces "stellar fruit". As any good cook or winemaker knows, your end product is only as good as the ingredients you begin with: http://boozehoundz.blogspot.com/
The San Fransisco Chronicle published
a list of the "Top 10 Things to do in Monterey" and Wrath's tasting room is included in that list. Monterey has a lot of wonderful things to do and places to see, so we feel honored and proud to have made the "short list". For the complete article, click here:
https://www.sfchronicle.com/travel/article/Top-10-things-to-do-in-Monterey-13413529.php
The Wine Spectator named "8 California Pinots for the Holiday Table"
and our recently released 2016 Wrath 115/667 Pinot Noir was featured with a great review and score of 91 points. This wine is availabel in both tasting rooms and online at http://www.wrathwines.com/Wines/Winemaker-Series
The Houston Rodeo Wine Competition Awards
have been released and all four of our submissions received top awards in their categories.
2015 Wrath San Saba Syrah was given Double Gold and Regional Class Champion <Best Central Coast Syrah>. Also, Our 2017 EX Sauvignon Blanc <Best Central Coast Sauvignon Blanc> and 2016 Wrath San Saba Pinot <Best Central Coast Pinot> both received Regional Class Champions. Come sample these wonderful wines and more at Houston Rodeo Uncorked and Best Bites Roundup on Sunday, Feb 17th. More details to follow...
Connoisseur's Guide reviews Wrath recent releases
and says "2016 Wrath KW Ranch Pinot Noir: Here is a bigger Pinot that gets it right when it comes to deep and defined" Excellent/ 91-95 pts
Vinous Reviewer, Josh Raynolds, comments
on the Santa Lucia Highlands AVA in just released reviews of SLH wines and says: " In short, a "Santa Lucia Highlands" designation on a label is about as close to a guarantee of quality as one is likely to find for Pinot Noir, Chardonnay and, increasingly, Syrah from the United States." Very high praise from one of our industry's most knowledgeable commentators. Read more at: http://vinous.com/
13 Celsius in Houston is one of our favorite wine bars
because they always feature interesting, hard to find wines. This week, we are honored to have our Ex Dolio Falanghina highlighted as part of their Women in Wine series. Thank you guys! http://13celsius.com/
We had a great time hosting McLaren at the winery
during Car Week. It was just named Road and Track's
Performance Car of 2018; Congratulations!

Our 2016 Clone bottlings have been released.
This vintage had great growing conditions with plenty of rain and the wines show this in their deep, rich flavors.


Wrath wines to be featured at Le Bon Marché, Paris
in their upcoming summer event focused on California wines. We are honored that both 2017 EX Sauvignon Blanc and 2017 EX Unoaked Chardonnay were selected from hundreds of wines submitted for review. Merci Beaucoup!
Check out Wine Enthusiasts' May issue
There's a great article on the Santa Lucia Highlands area producers and the sunset photo of our vineyard and old house is gorgeous.
https://www.winemag.com/2018/05/15/santa-lucia-highlands/
Monterey Weekly Editor Dave Faries
featured our recently released 2015 Wrath Ex Vite Pinot Noir, a bottling that focuses on the character added from 100% whole cluster fermentation. Available now in both tasting rooms and on our website.
2017 Wrath Pinot Noir Saignée (Rosé) is released (and sold out in two weeks)
Our newest release is the first wine from our just completed 2017 vintage. Everyone loves this wine and after the Wrath List pre-release offering, we only had 28 cases remaining. It is now sold out until next year.
Wine Spectator reviewer, Kim Marcus,
included our 2015 Fermata Chardonnay in the latest Tasting Report "New Reviews of Outstanding Whites" and say that it has a "silky texture, with flavors of Fuji apple, dried fig and pear that are creamy and rich". Sounds delicious and we agree!

San Francisco Chronicle
​has included a really nice article about our focus, our winery tasting room and our wines in The Press, their new publication focused on California wineries of note http://thepress.sfchronicle.com/review/wrath-river-road/


World of Pinot Noir, Santa Barbara
is ​honoring Women of Pinot Noir at a dinner on Saturday, March 3rd, including our own winemaker, Sabrine Rodems. Please join Sabrine and eleven winery colleagues, Merry Edwards and Bouchaine for example, at this very special dinner. We promise that you will drink some amazing Pinots that night. http://www.worldofpinotnoir.com/tickets/
Decanter magazine has named Wrath
as one of the 10 Best Wineries along California's Central Coast.


Josh Raynolds, Vinous/ Tanzer
reviewer for Central Coast wineries, has released his comments on the 2015 vintage for our area. Eleven of our wines scored 90pts or higher. We especially appreciate his comments "This producer has been flying under the radar for some time now and, in context of the pricing for top-notch producers of the region, the wines deliver solid and often impressive value." Read more at: http://vinous.com

We were honored to support Project Hero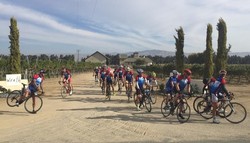 and the 150+ riders in The California Challenge, a bike ride from San Francisco to Los Angeles. The winery served as a morning rest stop on Day #2. What a great group of veterans and their support team.
AL is awarded "Editor's Choice" in Wine Enthusiast
This is a high honor for a can of refreshing Sauvignon Blanc that sells around $8/can. Wow!
Sunset magazine reviews AL Sauv Blanc 2016
Wine Editor, Sara Schneider, and her tasting panel review a selection of canned wines; they commented that AL Sauv Blanc was varietally correct and a "solid" glass of wine. You can review the entire conversation here:
https://www.facebook.com/SunsetMagazine/videos/10155568637437848/
Two new Membership Group Options are available
for people who prefer the wine club experience. Our first shipments will be sent Monday, April 3rd. Friends of Wrath is a quarterly shipment of four wines (one bottle each) selected by owner, Michael Thomas. It's as if the tasting room arrives at your doorstep. Pinot Circle is for the Pinot lover who wants to only focus on our Single Vineyard Pinots. Every quarter, six bottles of a Single Vineyard Pinot arrive; enough bottles to enjoy a few while letting others age for future pleasure. For more details: http://www.wrathwines.com/?method=pages.showPage&PageID=7224904A-D255-4158-E3E1-E2C8C337FA17&originalMarketingURL=Clubs
Los Angeles Times has named Wrath
as one of the best wineries in California.
The noted industry magazine SOMM Journal
includes seven wineries in an article on SIP, Sustainably Certified, vineyards and Wrath is honored to be chosen to represent growing practices in Monterey. Read the article: http://digital.copcomm.com/i/711666-august-september-2016 ...go to pg 109
Lyn Archer @ Bin Notes writes about Wrath
international journalist, Lyn Archer, interviews Wrath winemaker, Sabrine Rodems, on her approach to winemaking: http://binnotes.com/2016/07/26/redthread-exclusive-wrath-wines/
Watch Wrath's feature on the local news, July 7th
http://www.kionrightnow.com/news/local-news/central-coasting-soledad-an-important-part-of-countys-wine-industry/40406608
Wrath Doctor's Syrah - A Cameo with Aaron Franklin
Famed Chef and BBQ expert Aaron Franklin visits Salt & Time in Austin to discuss pig butchery; Doctor's Syrah has its cameo at 57 seconds; this wonderful shop has supported our Syrah since it became available in Austin several years ago http://video.klru.tv/video/2365503928/
Planet Grape recently posted an in-depth Wrath review on their blog
Thank you to Catherine Fallis, MS and Fred Swan for featuring us.
http://winereview.planetgrape.com/wrath-daily-wall-fog-wind-roars-salinas-valley/
Karen MacNeil, noted CIA wine instructor and author,
presenting her selection of thirteen impressive California Pinot Noirs to the Canadian wine trade at the Wine Institute's California Wine Fair. Our bottle of Wrath is turned and having a "hi Mom" moment. It's proud to be part of the line-up.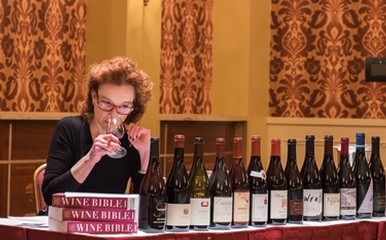 Wine Spectator's April issue
has a feature that focuses on Wrath owner Michael Thomas' excavations in southern Italy, near Pompeii. Both sides of his world combined when Michael and his team discovered the first area wine distribution center at Oplontis B, in part, by using wine industry knowledge from his work at Wrath. This article can be downloaded without subscription by clicking on this link: http://www.winespectator.com/magazine/show/id/52827. Click on the link under the issue cover with Sting and Trudie, then pan down to People and click on "Under the Volcano".
Winemaker, Sabrine Rodems,
offers her insight on being a woman winemaker in an interview for Wine Industry Insider : http://www.wineindustryadvisor.com/2015/06/30/insights-central-coast-women-winemakers/
Edible Monterey Bay
has a nice interview with our winemaker, Sabrine Rodems. To get a sense of Wrath behind-the-scenes, read: http://ediblemontereybay.com/our-newsletter-sponsors-spotlight/the-passionate-people-behind-wrath-wines/
A comment on Wine Reviews
When reading and comparing reviews of the same wine by different industry professionals, such as Jeb Dunnuck and Matt Kettmann, consider the time difference between reviews. Robert Parker's reviewer, Jeb Dunnuck, looks at most Monterey/ Santa Lucia Highlands' wines in late May- June. Matt Kettmann tasted and reviewed our wines in February/March. That's an eight month time span. So, the review differences highlight the way wines evolve with time and isn't that part of what captivates us and the fun we have with wine?
Wrath is Honored
to take part in Tuesday night's James Beard Foundation Dinner in Washington DC with our own winemaker, Sabrine Rodems, in attendance.
Corvette Stingray intro at Wrath
General Motors used the winery as a staging ground for the introduction of the newly redesigned 2014 Corvette Stingray to automotive journalists; one part of the activities surrounding Car Week in Carmel and Concours d' Elegance at Pebble Beach. From time to time, this photo pops up on the Internet so if you see it, now you know where it was taken. The old house in this photo sits at the top end of our estate vineyard.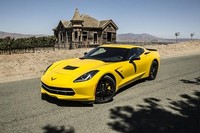 "Wrath: Taking Monterey to New Heights"
says The Wine Spectator, in an article titled "Three Wineries to Watch". The article focuses on three California wineries making a name for themselves by tackling the challenges of growing and producing Pinot Noir. We say "Thank you" to the editors of the Wine Spectator for the praise and recognition.