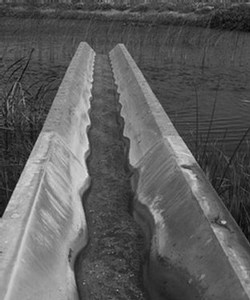 News and Event
Thank you Wine Spectator
for awarding 3 Wrath Chardonnays with scores of 90 points or higher.
Join winemaker, Sabrine Rodems, at Big Rock Chop
in Birmingham, Michigan (outside Detroit) for a wine dinner on Wednesday, March 22nd. This wonderful, historic property has an incredible menu planned. http://www.bigrockchophouse.com/event-directory/
Wrath winemaker, Sabrine Rodems, had a great time
talking about wines and winery recipes in Texas at Central Market's Cooking Schools. Thank you to the great teams from Dallas, Houston and Austin!
Wine Spectator editor, James Laube,
has included two of our newest Santa Lucia Highlands Single Vineyard Pinots in his latest article: 9 Coastal California Pinot Noirs: Best Wines from our Most Recent Tastings. 2014 Wrath Pinot Noir, Boekenoogen Vineyard, 91pts and 2014 Wrath Pinot Noir, Tondre Grapefield, 90pts.
Join Wrath winemaker, Sabrine Rodems,
in Dallas on Sunday, March 5th, from 6-9pm for "A Dame Good Party" hosted by the Dallas Chapter of Les Dames d' Escoffier, a group of women food and wine professionals. Sabrine will be joining a group of 11 other women winemakers for a fun evening of lots of food and lots of wine. Tickets are only $75 and can be purchased: http://www.prekindle.com/promo/id/24545708307731533
American Fine Wine Competition Results
are in and 2014 Wrath Pinot Noir, Tondre Grapefield earned Double Gold and 2014 Wrath Syrah, KW Ranch has a Gold medal to brag about. This is the 10th year of this competitive tasting.
The Wine Enthusiast
has given us the first reviews of 2017. 2014 Wrath Ex Anima Syrah was awarded Editor's Choice, 91pts; 2014 Wrath 3 Clone Chardonnay has 93pts and 2014 Wrath Swan/828 Pinot Noir received 90pts. These wines are all available through the winery or distribution at various retailers.
La Paulee 2016
Thank you for your help making in our 5th La Paulee such a great event. We can't think of a better way of sharing the end of Harvest with close local friends and our fans from all over.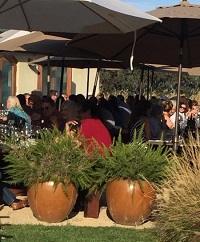 Agreeable weather, fantastic wines, lots of stories all conspired to make for a fun day.
Vinous reviewer, Josh Raynolds,
has awarded 11 Wrath wines with scores of 90pts or higher. This is fantastic feedback from one of our industry's most respected reviewers.
Los Angeles Times has named Wrath
as one of the best wineries in California.
Robert Parker's Wine Advocate
reviewer Jeb Dunnuck has given Wrath 2014 Pinots some wonderful comments and high scores. Sign up now for the Wrath List to be the first to hear about new vintage releases and special offerings.
Rory Filbin, Wine Manager at Tarpy's Roadhouse
has included 2013 Wrath Pinot Noir, McIntyre Vineyard as one of his favorite wines for California Wine Month. Here's a shout-out to Rory...Thank You!
Harvest has begun!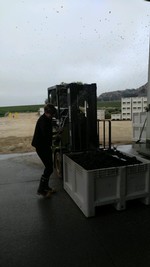 Early pick Pinot Noir came in Aug 24th- now the work begins.
First load arrives at the press
The noted industry magazine SOMM Journal
includes seven wineries in an article on SIP, Sustainably Certified, vineyards and Wrath is honored to be chosen to represent growing practices in Monterey. Read the article: http://digital.copcomm.com/i/711666-august-september-2016 ...go to pg 109
Lyn Archer @ Bin Notes writes about Wrath
international journalist, Lyn Archer, interviews Wrath winemaker, Sabrine Rodems, on her approach to winemaking: http://binnotes.com/2016/07/26/redthread-exclusive-wrath-wines/
Wrath goes on vacation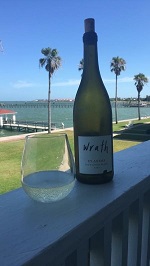 Thanks Laura Meijer - we'll toast to that!
Watch Wrath's feature on the local news, July 7th
http://www.kionrightnow.com/news/local-news/central-coasting-soledad-an-important-part-of-countys-wine-industry/40406608
Wrath Doctor's Syrah - A Cameo with Aaron Franklin
Famed Chef and BBQ expert Aaron Franklin visits Salt & Time in Austin to discuss pig butchery; Doctor's Syrah has its cameo at 57 seconds; this wonderful shop has supported our Syrah since it became available in Austin several years ago http://video.klru.tv/video/2365503928/


Thank you Wine Spectator
for including our 2013 Wrath 3 Clone Chardonnay in the July issue; James Laube awarded 90pts and said "rich yet elegant...".
Planet Grape recently posted an in-depth Wrath review on their blog
Thank you to Catherine Fallis, MS and Fred Swan for featuring us.
http://winereview.planetgrape.com/wrath-daily-wall-fog-wind-roars-salinas-valley/
Karen MacNeil, noted CIA wine instructor and author,
presenting her selection of thirteen impressive California Pinot Noirs to the Canadian wine trade at the Wine Institute's California Wine Fair. Our bottle of Wrath is turned and having a "hi Mom" moment. It's proud to be part of the line-up.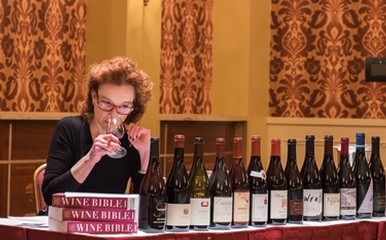 Laurie Daniel, respected wine writer
writes about the recent Santa Lucia Artisan's tasting for The Tribune, and notes that among the highlights of the tasting were 2013 Wrath Boekenoogen Pinot Noir and 2013 Wrath McIntyre Pinot Noir. Thank you Laurie!
Wine Spectator's April issue
has a feature that focuses on Wrath owner Michael Thomas' excavations in southern Italy, near Pompeii. Both sides of his world combined when Michael and his team discovered the first area wine distribution center at Oplontis B, in part, by using wine industry knowledge from his work at Wrath. This article can be downloaded without subscription by clicking on this link: http://www.winespectator.com/magazine/show/id/52827. Click on the link under the issue cover with Sting and Trudie, then pan down to People and click on "Under the Volcano".
International Wine Review
is one of the review sites we have great respect for. Their wine comments are spot-on and their regional reports are like a tutorial on an AVA. Editors Mike Potashnik and Don Winkler awarded scores of 90pts or better to six Wrath wines, including our two newest: Alta Loma Grenache and Destruction Level, Grenache-Syrah-Cinsault. For more info and to subscribe:http://i-winereview.com/blog/index.php/2016/02/29/new-releases-from-wrath-vineyards-2013-2014/
Thank You, Wine Spectator
for awarding three Wrath Syrah bottlings with scores of 90pts or higher. We really respect reviewer Tim Fish's palate so this makes all the hard work worth it.
Wrath Introduces Two new Wines
members of our Wrath List are getting the first opportunity to order our two newest bottlings: 2013 Wrath Grenache, Alta Loma Vineyard and 2013 Destruction Level, a Rhone blend of Syrah-Grenache-Cinsault.
Wrath is now available in Germany & Europe
An extensive collection of Wrath wines are now available throughout the E.U. with ALMA Genuss & Leben. Contact Markus Shultz at 49 6151 392 19691.
Honored in Canada!
Renown wine educator Karen MacNeil, author of "The Wine Bible" and instructor at CIA- Greystone, has selected 2013 Wrath Pinot Noir, Boekenoogen Vineyard as one of only 12 Pinot Noirs presented to the Canadian wine industry as the best of California Pinots. Also, included in the presentation are Pinots from Radio-Coteau, Sanford, Kosta Browne, Williams Selyem, Failla, Laetitia, Paul Hobbs, Talley, Brewer-Clifton, Au Bon Climat and McIntyre. It's an honor to be part of this grouping.
Goodbye 2015 .... Hello 2016!!
We hope that everyone gets to spend this Holiday season with loved ones, in spirit if not in person. 2015 was the best year yet so we can't wait to see what 2016 brings. Here's a toast to use at your Holiday gatherings:
" May our house always be too small to hold all our family and friends."
Joe Roberts- 1 Wine Dude
blogs about wine and the wine world with interesting interviews, thoughtful wine reviews and comments; all posted on Facebook (full disclosure- he's said some nice things about Wrath wines); to broaden your wine info, log on to: http://www.facebook.com/1winedude?fref=photo
Winemaker, Sabrine Rodems,
offers her insight on being a woman winemaker in an interview for Wine Industry Insider : http://www.wineindustryadvisor.com/2015/06/30/insights-central-coast-women-winemakers/
Edible Monterey Bay
has a nice interview with our winemaker, Sabrine Rodems. To get a sense of Wrath behind-the-scenes, read: http://ediblemontereybay.com/our-newsletter-sponsors-spotlight/the-passionate-people-behind-wrath-wines/
Wine Bloggers
There are lots of talented food and wine bloggers. Here is one of the sites we like to follow: http://www.winewalkabout.net/2015/04/ww-2012-wrath-pinot-noir-mcintyre.html
A comment on Wine Reviews
When reading and comparing reviews of the same wine by different industry professionals, such as Jeb Dunnuck and Matt Kettmann, consider the time difference between reviews. Robert Parker's reviewer, Jeb Dunnuck, looks at most Monterey/ Santa Lucia Highlands' wines in late May- June. Matt Kettmann tasted and reviewed our wines in February/March. That's an eight month time span. So, the review differences highlight the way wines evolve with time and isn't that part of what captivates us and the fun we have with wine?
Wrath is Honored
to take part in Tuesday night's James Beard Foundation Dinner in Washington DC with our own winemaker, Sabrine Rodems, in attendance.
Corvette Stingray 2014 intro at Wrath
General Motors used the winery as a staging ground for the introduction of the newly redesigned 2014 Corvette Stingray to automotive journalists; one part of the activities surrounding Car Week in Carmel and Concours d' Elegance at Pebble Beach.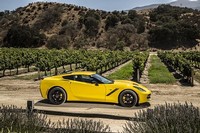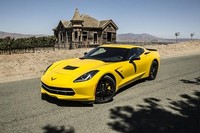 "Wrath: Taking Monterey to New Heights"
says The Wine Spectator, in an article titled "Three Wineries to Watch". The article focuses on three California wineries making a name for themselves by tackling the challenges of growing and producing Pinot Noir. We say "Thank you" to the editors of the Wine Spectator for the praise and recognition.