News and Events
Heading to Sedona, AZ soon?
If so, check out Dahl and Di Luca, recently named "One of 10 Best Restaurants" in Sedona by Culture Trip. And while you are there, enjoy our 2018 Wrath Swan/828 Pinot Noir being served by the glass.
https://theculturetrip.com/north-america/usa/arizona/articles/sedona-s-10-best-restaurants-local-eateries/?
Newly released 2018 Wrath EX Pinot Noir
is featured in PinotFile's "Are There Any Under $30 Pinot Noirs Worth Drinking?" Rusty Gaffney, known as The Prince of Pinot, is one of our nation's experts on this versatile grape. We work hard to delivery quality and value so this is rewarding confirmation.

Forbes magazine has named 2018 Wrath Ex Vite Pinot
one of "8 Fantastic California Wines". To check out their recommendations, click here:
https://www.forbes.com/sites/alywalansky/2021/08/14/8-fantastic-california-wines-to-drink-as-we-get-ready-for-fall/?sh=447a72465622
Wrath Tasting Rooms' New Fall/Winter Hours!
Both Wrath tasting rooms are now open for inside tastings. Our Winery tasting room is open 11-5pm, Friday-Monday, closed Tues-Wed- Thurs. There is also a large spacious patio where we can host a number of guest groupings and still maintain 10' plus spacings for comfort and safety.

Our Carmel tasting room is open Daily from 11-6pm in Carmel Plaza, Ocean @ Mission, on the ground floor. Seating inside is limited but we can take your phone number and call when a spot is opening.
Sunset Magazine's
International Wine Competition 2021 Results
2017 Wrath San Saba Syrah is awarded Double Gold/ 96 points. We love this wine and are thrilled at the judges' decision. Come taste for yourself and give your own score.
Indulgent Hiking Excursions
Wine Enthusiast magazine recently posted an article titled "Trek and Taste: Five National Parks Near Wine Country". What a fun idea!! Spend the morning hiking/exploring and the afternoon enjoying local wineries. America's newest national part is Pinnacles, just across the valley from our location. Two wineries, Wrath and Hahn, were singled out as recommended visits. For more info, click on:
https://www.winemag.com/2021/06/04/national-parks-wine-travel/


2020 Wrath Saignee of Pinot Noir (Rose)
Fredric Koeppel of "Bigger than your Head" wine blog calls our 2020 Rose "terrific" and we couldn't agree more! If you enjoy discovering new wines, this is one blog you should follow... http://BIGGERTHANYOUORHEAD.NET
Wrath's canned 2019 AL Sauvignon Blanc
has received high praise for a canned wine. Master of Wine, Catherine Fallis writes in Planet Grape...91pts "Fresh, creamy, tangy and dry with notes of peach, pineapple, mango, guava, lemongrass". Fantastic praise for a canned wine and shows the care and quality we put into every wine produced at Wrath.http://planetgrapewinereview.com/newworldwine_reviews/2019-wrath-al-sauvignon-blanc-monterey/


Edible Monterey Bay features Wrath San Saba Pinot Noir
in their latest newsletter. Wine journalist Laura Ness writes "the estate Pinot Noir is a special journey in itself." She also mentions our recent "Coin Award" from the Slow Food/Wine movement that began in Italy and has spread to the U.S. It means our Wrath San Saba Vineyard Pinot Noir is a great value. We are passionate about being good stewards of the land and are super proud of this honor for both the winery and wine.
Decanter has included 2017 Wrath San Saba Syrah
in its "California Syrah: 10 Great Value Picks under $40" ; a recent report on close to 100 California Syrah bottlings. Wine critic, Matthew Luczy wrote "there's great depth on the mid-bodied palate, layered with deep, dense flavours"... 93pts. We are thrilled with the recognition.


115/667 and Pommard 4/777 Pinots named Great Values
Doug Wilder's "purely domestic wine report" is a popular, subscription only publication that is introducing a new issue "The Values Guide", focusing on $40 and under wines that over-deliver on flavor and style. These are wines that have scored 90pts or greater in his issues. We are proud to have two of our clone Pinot bottlings included in this inaugural publication. If you want to zero in on some great, well-priced wines, here's a link to the website: purely domestic wine report
Wrath's 2018 EX Pinot Noir included in "$30 Domestic Pinot Worth Drinking"
Our 2018 EX Pinot is included in a PinotFile article "Are There Any Under $30 Domestic Pinot Noirs Worth Drinking?" Written by Pinot expert Rusty Gaffney, nicknamed "The Prince of Pinot", Mr Gaffney's expert praise is really appreciated by our winemaking team who poured hours of hard work into producing the best wines we can offer. This wine will be released within the next month and is $27/bottle. If you love Pinot Noir, this is the website for you: The Prince of Pinot

What a Nice Beginning to 2021!
We just received notice that the Slow Wine Movement has awarded our Wrath San Saba Pinot Noir with a "Coin", which means it is a great value for its price. The Slow Wine movement is an arm of the Slow Food movement that advocates for similar standards like SIP, Sustainable-in-Practice: minimal intervention and handling of grapes and wines during growth and production, community support and engagement from the winery staff, winery/office built to be respectful of the environment, respect for vineyard agricultural practices and supportive of the area's biodiversity. These are things we feel strongly about and are concious of in our everyday decisions.


2018 Wrath Tondre Pinot has the spotlight!
This is the year for our Tondre Pinot to shine... it was featured on the cover of Wine Spectator's Insider Weekly newsletter with 92 points and comments like "big, rich, and powerful". Vinous wine critic, Josh Raynolds, awarded the 2018 Tondre Pinot with 94 points and descriptions of "excellent clarity; closes on a vibrant mineral note, delivering superb persistence". While beautiful now, this wine will continue to improve, open and display its character until the late 2020's. Wrath's 2018 Single Vineyard Pinots are now being offered to our List members before being made available to the public.
WRATH LIST SIGN_UP

2018 Wrath Swan/828 will be released in November
and it has already gotten some great commentary and attention from the Wine Spectator who featured it in their Insider Weekly newsletter, "a first look at our Editor's most exciting new wines"... 92pts and comments that say "mouthwatering flavors of red fruits and berries that are well-knit"... be on the lookout for our release announcement
2018 Wrath 115/667 Pinot Noir
was just released and is the first of the 2018 reds to be available. Wine Enthusiast's Matt Kettmann is more familiar with Central Coast wines than any reviewer and has awarded this bottling with a wonderful 93pts. What a great way to begin our newest vintage ... thank you Matt!
Thank you "MoreAboutWine.com"
Tom Marquardt and Patrick Dunn write an extensive wine column to help wine lovers learn more. They recently recommended our 2017 Wrath KW Ranch Syrah in an article about the Santa Lucia Highlands growing area. We appreciate being included. Their articles can found in the Baltimore Sun, Capitol Gazette, South Florida Reporter and online.
Wine Spectator calls our 2018 Tondre Pinot a "Knockout"
Want a peek into the future? The Wine Spectator's "Tastings Highlights" is a first look at soon to be released wines that have just been reviewed. Our 2018 Wrath Tondre Grapefield Pinot Noir tops the list with 92pts and comments of "big, rich, powerful". If you aren't on our mailing list, sign up so that you will have first access before the general release.


A Virtual Visit to Wrath's Winery Tasting Room
Are you missing your visit to our area this year? This short video by the Monterey County Visitor's Bureau features Folktale Winery in Carmel Valley and our winery tasting room in the Salinas Valley. Pour a glass of Wrath and "chill out" while virtually hanging out on our patio: https://vimeo.com/228084711


Wine Enthusiast has awarded "Best Buy"
and 91 points to our canned 2018 AL Sauvignon Blanc. This is an incredible honor for a canned wine and reflects the care we take to ensure both convenience and quality. Our newly released 2017 Wrath Ex Dolio Falanghina has also be reviewed and given an Editor's Choice/ 90 points score. Both wines will be featured in the upcoming August issue of Wine Enthusiast.
Virtual Tastings with winemaker Sabrine Rodems
since both tasting rooms are closed, we thought a "virtual tasting" with our winemaker would bring the tasting room to you... here's a link to our YouTube channel videos:
Wrath Wines YouTube
Wine Spectator has reviewed our 2017 Single Vineyards
and given us some great praise. Spectator senior editor Kim Marcus is one of the most in-demand wine journalists in the country; everyone wants his attention. We are very honored and agree with his opinion of our newest vintages: 2017 Wrath McIntyre Pinot- 93pts/ Insider feature "our editor's most exciting, new wines"; 2017 Wrath San Saba Chardonnay- 90pts "buttery with baked apple"; 2017 Wrath KW Ranch Pinot Noir- 91pts "rich and dark" and 2017 Wrath San Saba Pinot Noir- 91pts "succulent red fruits and plush texture".

Michael Cervin is one of California's busiest wine writers
working with Decanter, Somm Journal, Wine & Spirits, Wine Enthusiast and many other pubications. He recently reviewed our 2017 Wrath Swan/828 Pinot Noir and said "Truly an astounding price for a wine of this quality, I highly recommend this". 94pts

Sacramento Bee features "Best Taste of what Carmel
By the Sea has to offer" about the twenty tasting rooms that dot the retail section of town. Six tasting rooms were chosen and highlighted. We are happy to have been selected. Writer Allen Pierleoni's article is very thorough, educational, and a great tutorial on our Wine Walk. Click: https://www.sacbee.com/food-drink/article238042009.html

Monterey County Weekly
just featured 2016 Wrath San Saba Chardonnay and journalist Dave Faries says "it's a wine that would stand up well paired to a full Thanksgiving banquet." His descriptors of "silken custard, hint of torched caramel, fallen peaches and freshly sliced apples" is so enticing. I want to wander over to the winery and open a bottle right now. Thank you Dave... you taste a lot of local wines and we appreciate the way you've written about our Chardonnay.

Wine Enthusiast magazine
just informed us that all three of our clone bottlings will be featured in the December 2019 issue. 2017 Wrath 115/667 Pinot is known for its spicy, energetic character and was awarded 92pts; 2017 Wrath Swan/828 Pinot is known for its dark, rich fruit and touch of earthiness and has 91pts; 2017 Wrath Pommard 4/777 Pinot showcases the forest floor/mushroom characteristics of the pinot noir grape and was given 92pts. These wines are now available in our tasting rooms, on our website http://www.wrathwines.com/Wines/Winemaker-Series and at wine.com https://www.wine.com/search/wrath%20pinot%20noir/0.

San Jose Mercury News
published an article titled "12 unique Bay Area Outings for Holiday Visitors". Our Carmel tasting room is included as one of the options, along with a photo of Pinot Noir on the tasting room bar. There are so many wineries within a 75 mile radius of San Jose; it's a real compliment to be featured.


La Paulee 2019 is now a wonderful memory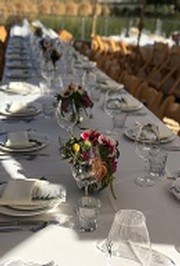 Thank you to everyone who joined us. The weather was perfect and Chef Brad Briske's food was amazing!
We are already looking forward to next year's event.
VINOUS reviews just posted for our 2017 Single Vineyards
and reviewer Josh Raynolds writes "I was struck by the wines' overall sense of energy and nuance,which has always been present here but seemed much to the fore with these '17s." These wines are now released and while drinking beautifully, they will continue to evolve for another 2-4 years and hold well for 8-9 years.

Wine Spectator "Insider"
states that it is "a first look at our editors' most exciting new wines". Then, we are excited to be included on the cover for our 2017 Wrath Pinot Noir, McIntyre Vineyard.

Decanter recommends Wrath Wines
as must-visit tasting rooms while in the Monterey/Carmel area. For decades, Decanter has been the 'go to' source of information for European wine lovers. We can't wait to show off our region to visitors from across the ocean.
The Wine Spectator's recent Tasting Highlights' article
"9 California Pinots from the Grape's Top Regions" includes our newly released 2017 Wrath 115/667 Pinot Noir. It's rewarding to represent our Monterey appellation and show that seriously good grapes are being grown here.
A Great Review in the Capitol Gazette
by two respected wine jouornalists, Tom Marquardt and Pat Darr, says that our 2016 Wrath San Saba Syrah is a "dead ringer for a good vintage Crozes Hermitage from the Northern Rhone". Wow! That is high praise from people who have years of experience.
Harvest 2019 began today on 9/11
Harvest is about two weeks later than usual because of the cold, wet Spring but Summer's late heat helped grapes develop the flavors we were waiting for. Winemaker, Sabrine, toasts the grapes before heading to the crush pad.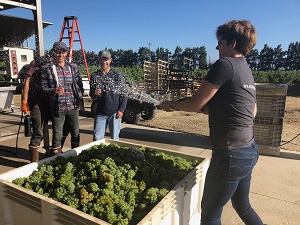 Newsweek magazine features Wrath's EX Sauv Blanc
in an article about drinking Monterey wines (while watching "Big Little Lies") and of the six wineries featured only Wrath and Hahn were actual Monterey based wineries. We were also the smallest winery highlighted so it was an honor for us to be selected for inclusion.


Wrath included in "Big Little Lies" Guide to Monterey
The second, and last, season of this super popular show is begins June 9 on HBO. Wrath winemaker, Sabrine Rodems, was invited to the premiere opening in New York City and our tasting rooms were included in a "What to Do" article about the Monterey Bay area.
ENObytes.com is a popular, respected website
focused on food, wine, and travel. Their most recent post focuses on American Syrah and if you want to learn more about this delicious varietal, this article is the place to start. We are proud to have both our Single Vineyard Syrahs included and recommended.
https://enobytes.com/2019/03/21/american-syrah-report/


World of Pinot Noir recap by Randy Caparoso
Randy Caparoso is a wine journalist whose work is frequently included in major wine publications. His writings are informed, on-point and yet, easy to understand when talking about technical topics. Click on this link to his comments about the World of Pinot Noir event held every year in Santa Barbara. If you are a Pinot lover, you owe it to yourself to attend at least once in your lifetime! If you can't make it, host your own WOPN by sourcing some of his favorite Pinots (including our Wrath San Saba Pinot) and hold your own tasting.
https://randycaparoso.blogspot.com/2019/03/high-on-acid-and-sense-of-place-at-2019.html
The San Fransisco Chronicle published
a list of the "Top 10 Things to do in Monterey" and Wrath's tasting room is included in that list. Monterey has a lot of wonderful things to do and places to see, so we feel proud to have made the "short list". For the complete article, click here:
https://www.sfchronicle.com/travel/article/Top-10-things-to-do-in-Monterey-13413529.php
The Wine Spectator named "8 California Pinots for the Holiday Table"
and our 2016 Wrath 115/667 Pinot Noir was featured with a great review and score of 91 points.
Connoisseur's Guide reviews Wrath recent releases
and says "2016 Wrath KW Ranch Pinot Noir: Here is a bigger Pinot that gets it right when it comes to deep and defined" Excellent/ 91-94 pts
Vinous Reviewer, Josh Raynolds, comments
on the Santa Lucia Highlands AVA in just released reviews of SLH wines and says: " In short, a "Santa Lucia Highlands" designation on a label is about as close to a guarantee of quality as one is likely to find for Pinot Noir, Chardonnay and, increasingly, Syrah from the United States." Very high praise from one of our industry's most knowledgeable commentators. Read more at: http://vinous.com/
We had a great time hosting McLaren at the winery
during Car Week. It was just named Road and Track's
Performance Car of 2018; Congratulations!
Wrath wines to be featured at Le Bon Marché, Paris
in their upcoming summer event focused on California wines. We are honored that both 2017 EX Sauvignon Blanc and 2017 EX Unoaked Chardonnay were selected from hundreds of wines submitted for review. Merci Beaucoup!

San Francisco Chronicle
​has included a really nice article about our focus, our winery tasting room and our wines in The Press, their new publication focused on California wineries of note http://thepress.sfchronicle.com/review/wrath-river-road/


World of Pinot Noir, Santa Barbara
is ​honoring Women of Pinot Noir at a dinner on Saturday, March 3rd, including our own winemaker, Sabrine Rodems. Please join Sabrine and eleven winery colleagues, Merry Edwards and Bouchaine for example, at this very special dinner. We promise that you will drink some amazing Pinots that night. http://www.worldofpinotnoir.com/tickets/
Decanter magazine has named Wrath
as one of the 10 Best Wineries along California's Central Coast.


We were honored to support Project Hero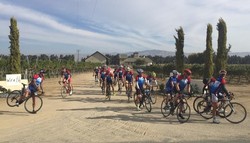 and the 150+ riders in The California Challenge, a bike ride from San Francisco to Los Angeles. The winery served as a morning rest stop on Day #2. What a great group of veterans and their support team.
AL is awarded "Editor's Choice" in Wine Enthusiast
This is a high honor for a can of refreshing Sauvignon Blanc that sells around $7/can. Wow!
Los Angeles Times has named Wrath
as one of the best wineries in California.
The noted industry magazine SOMM Journal
includes seven wineries in an article on SIP, Sustainably Certified, vineyards and Wrath is honored to be chosen to represent growing practices in Monterey. Read the article: http://digital.copcomm.com/i/711666-august-september-2016 ...go to pg 109
Karen MacNeil, noted CIA wine instructor and author,
presenting her selection of thirteen impressive California Pinot Noirs to the Canadian wine trade at the Wine Institute's California Wine Fair. Our bottle of Wrath is turned and having a "hi Mom" moment. It's proud to be part of the line-up.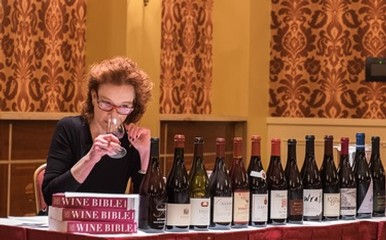 Wine Spectator's April issue
has a feature that focuses on Wrath owner Michael Thomas' excavations in southern Italy, near Pompeii. Both sides of his world combined when Michael and his team discovered the first area wine distribution center at Oplontis B, in part, by using wine industry knowledge from his work at Wrath. This article can be downloaded without subscription by clicking on this link: http://www.winespectator.com/magazine/show/id/52827. Click on the link under the issue cover with Sting and Trudie, then pan down to People and click on "Under the Volcano".
Winemaker, Sabrine Rodems,
offers her insight on being a woman winemaker in an interview for Wine Industry Insider : http://www.wineindustryadvisor.com/2015/06/30/insights-central-coast-women-winemakers/
A comment on Wine Reviews
When reading and comparing reviews of the same wine by different industry professionals, such as Jeb Dunnuck and Matt Kettmann, consider the time difference between reviews. Robert Parker's reviewer, Jeb Dunnuck, looks at most Monterey/ Santa Lucia Highlands' wines in late May- June. Matt Kettmann tasted and reviewed our wines in February/March. That's an eight month time span. So, the review differences highlight the way wines evolve with time and isn't that part of what captivates us and the fun we have with wine?
Wrath is Honored
to take part in Tuesday night's James Beard Foundation Dinner in Washington DC with our own winemaker, Sabrine Rodems, in attendance.
Corvette Stingray intro at Wrath
General Motors used the winery as a staging ground for the introduction of the newly redesigned 2014 Corvette Stingray to automotive journalists; one part of the activities surrounding Car Week in Carmel and Concours d' Elegance at Pebble Beach. From time to time, this photo pops up on the Internet so if you see it, now you know where it was taken. The old house in this photo sits at the top end of our estate vineyard.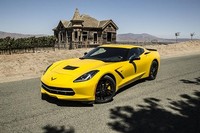 "Wrath: Taking Monterey to New Heights"
says The Wine Spectator, in an article titled "Three Wineries to Watch". The article focuses on three California wineries making a name for themselves by tackling the challenges of growing and producing Pinot Noir. We say "Thank you" to the editors of the Wine Spectator for the praise and recognition.