News and Events
La Paulée, Saturday November 11th
tickets are now available. La Paulée is a community tradition in Burgundy that celebrates the end of Harvest. We invite local wineries to join us at the winery for our La Paulée de Monterey. Chef Brad Briske, owner of Home restaurant in Soquel, will serve a delicious luncheonto compliment the Pinots and Chardonnays from each winery. Seating is family-style to enhance the sense of community. For more information, click on this link:
/Wines/Special-Events
Wine Enthusiast magazine
has given high praise for our upcoming 2021 vintage. Three of the Single Vineyard Pinots that will be included in the next releases are:
2021 Wrath KW Ranch Pinot - 95pts ...331 cases
2021 Wrath Tondre Grapefield Pinot- 94pts ...342 cases
2021 Wrath Boekenoogen Vineyard Pinot- 92pts ...367 cases

Be sure to sign-up for our Wrath List to get pre-release access to these wines. They are bound sell quickly. Click "Membership" to sign-up.
"Oustanding Pinot Noir"
Wine Spectator's most recent "Tasting Highlights" focuses on 2021 California Pinot Noirs and highlighted eight wines, including our 2021 Wrath Boekenoogen Pinot Noir. This wine will be released late September/early October 2023. Only 367 cases were produced and our Boekenoogen Pinot is always one of the first to sell out. To be included in our pre-release offering, sign-up for our Wrath List to get notified and have the option to purchase.... click on "Membership" on the right side of this page.
"Terrific Quality"
"Terrific Quality" is Wine Spectator's description of our 2020 EX Unoaked Chardonnay in their "Tasting Highlights column "12 Golden State Values", about wines under $30 that deliver more value for the dollar.
Local Food/Wine Journalist, Dave Faries
at Monterey County Weekly, features Wrath's Ex Dolio Falanghina in his latest column. This grape variety is ancient and links our owner's archaeological work in Italy with his vineyard and winery in Monterey.
https://www.montereycountyweekly.com/opinion/mmj/wrath-reaches-back-to-the-roots-of-wine-with-its-clay-aged-falanghina/article_91dceda2-b881-11ed-84dc-577028e72000.html
Thank You Edible Monterey
and journalist Laura Ness for visiting and writing such nice words about our wines. Click here for a link to the article: Sojourn to Soledad: A Visit to Wrath - Edible Monterey Bay
Connoisseurs' Guide to California Wine
in its most recent review, has nice words for our 2020 Wrath San Saba Pinot Noir:
"Our pick of the Wrath Pinots by dint of its brightness and balance, and a lithe, very well-focused effort that has a firm grasp on very lively and pure cherry-like fruit throughout, this wine is fully ripe without running to excess and lingers on and on with mannerly, neatly integrated tannins that never detract from its message of continuous fruit." We couldn't have said it better ourselves. Thank you!!
Reviews are arriving for 2021 EX wines
and we are happy to share that both 2021 EX Sauvignon Blanc and 2021 EX Unoaked Chardonnay received 91pts from respected Master Sommelier Catherine Fallis who hosts the Planet Grape website. If you haven't visited Planet Grape, we encourage you to check it out. It is full of stories, reviews and information that are interesting and educational.
2022 La Paulee de Monterey
an announcement email with a link for tickets will be sent in the few days. Our annual special event was inspired by Harvest Celebrations in Burgundy and will be held on Saturday, November 12th from 1-4pm, at the winery. This event has limited seating to preserve the event's sense of community and sells out quickly. If you are interested, be sure to sign up on our WRATH LIST. You will be the among the first offered the opportunity to purchase tickets.
Afar online magazine
is a great resource for those of us who love to travel. Their latest issue focuses on the Monterey winegrowing growing area. We appreciate being one of the tasting rooms featured; click on this link to read the entire article:
https://www.afar.com/magazine/where-to-drink-wine-in-the-monterey-county-ava
Wine Enthusiast reviews 2019 Wrath Single Vineyards
Wine Enthusiast critic Matt Kettmann just sent us an early release of scores given for our 2019 Single Vineyard Pinot Noirs. All four wines submitted received scores of 90pts or higher. 2019 Wrath McIntyre VIneyard has 93pts and our newest Pinot Noir, 2019 Wrath Cortada Alta, Santa Lucia Highlands received 91pts. This is the highest vineyard in the Santa Lucia Highlands and because of its high altitude, it is planted with two Swiss Pinot varietals. On your next visit, ask for a pour and taste grapes rarely grown in America.
Vinous reviews are posted!
Vinous reviewer Josh Raynolds is one of the highest regarded wine critics in America. He's in constant demand and Covid really upended his constantly crowded schedule. We are so happy that his comments on our 2019 vintage have finally been released and couldn't be more thrilled with his critiques. 2019 Wrath San Saba Pinot was given 95pts with comments "Always a solid producer, Wrath has been stepping up their game... These 2019s are, perhaps, the best set of bottlings I have yet tasted here."
Sip, Sip, Hooray podcast
Listen and enjoy the conversation our winemaker, Sabrine Rodems, has with two of the most knowledgeable and interesting women wine journalists. https://bit.ly/3vmebnG
The Telegraph, England's premier newspaper
has featured Wrath, and our friends at Caraccioli, as the two prime wineries to visit when in Carmel. Wow! Looks like our reputation is spreading far and wide.
Bites, Flights, and Sights
blog by John and Linda Compisi recently featured Wrath's winery tasting room and wines in their blog about a recent trip to the Carmel area. These guys know their "stuff" and their well-written, entertaining articles are an excellent source of information for your next place to visit. We say "thank you!" for the great compliments and hope to see you again.
http://bitesflightsandsights.com/the-flights-and-bites-of-carmel-valley/
Best of the Year issue
for Wine Enthusiast will be on newsstands in the next few weeks. We are excited that our 2020 EX Sauvignon Blanc and 2020 Ex Unoaked Chardonnay are included.


International Wine Review
is a highly respected team of independant wine critics who cover the world. Their articles are strongly recommended for anyone wanting to "deep dive" into a specific growing region. IWR recently posted great comments on our newest wines. For more info, click here: Wrath Vineyards of Monterey: 2019 Releases | i-WineReview Articles


Heading to Sedona, AZ soon?
If so, check out Dahl and Di Luca, recently named "One of 10 Best Restaurants" in Sedona by Culture Trip. And while you are there, enjoy our 2020 Wrath Swan/828 Pinot Noir being served by the glass.
https://theculturetrip.com/north-america/usa/arizona/articles/sedona-s-10-best-restaurants-local-eateries/?
Indulgent Hiking Excursions
Wine Enthusiast magazine recently posted an article titled "Trek and Taste: Five National Parks Near Wine Country". What a fun idea!! Spend the morning hiking/exploring and the afternoon enjoying local wineries. America's newest national part is Pinnacles, just across the valley from our location. Two wineries, Wrath and Hahn, were singled out as recommended visits. For more info, click on:
https://www.winemag.com/2021/06/04/national-parks-wine-travel/


115/667 and Pommard 4/777 Pinots named Great Values
Doug Wilder's "purely domestic wine report" is a popular, subscription only publication that is introducing a new issue "The Values Guide", focusing on $40 and under wines that over-deliver on flavor and style. These are wines that have scored 90pts or greater in his issues. We are proud to have two of our clone Pinot bottlings included in this inaugural publication. If you want to zero in on some great, well-priced wines, here's a link to the website: purely domestic wine report
Virtual Tastings with winemaker Sabrine Rodems
We thought a "virtual tasting" with our winemaker would bring the tasting room to you... here's a link to our YouTube channel videos:
Wrath Wines YouTube
Sacramento Bee features "Best Taste of what Carmel
By the Sea has to offer" about the twenty tasting rooms that dot the retail section of town. Six tasting rooms were chosen and highlighted. We are happy to have been selected. Writer Allen Pierleoni's article is very thorough, educational, and a great tutorial on our Wine Walk. Click: https://www.sacbee.com/food-drink/article238042009.html


La Paulee 2019 is now a wonderful memory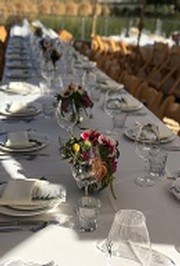 Thank you to everyone who joined us. The weather was perfect and Chef Brad Briske's food was amazing!
We are already looking forward to next year's event.
Decanter recommends Wrath Wines
as must-visit tasting rooms while in the Monterey/Carmel area. For decades, Decanter has been the 'go to' source of information for European wine lovers. We can't wait to show off our region to visitors from across the ocean.
Harvest 2019 began today on 9/11
Harvest is about two weeks later than usual because of the cold, wet Spring but Summer's late heat helped grapes develop the flavors we were waiting for. Winemaker, Sabrine, toasts the grapes before heading to the crush pad.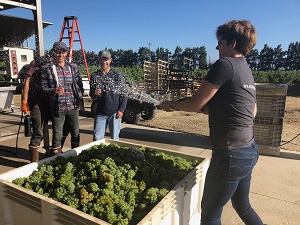 Newsweek magazine features Wrath's EX Sauv Blanc
in an article about drinking Monterey wines (while watching "Big Little Lies") and of the six wineries featured only Wrath and Hahn were actual Monterey based wineries. We were also the smallest winery highlighted so it was an honor for us to be selected for inclusion.

The San Fransisco Chronicle published
a list of the "Top 10 Things to do in Monterey" and Wrath's tasting room is included in that list. Monterey has a lot of wonderful things to do and places to see, so we feel proud to have made the "short list". For the complete article, click here:
https://www.sfchronicle.com/travel/article/Top-10-things-to-do-in-Monterey-13413529.php
We had a great time hosting McLaren at the winery
during Car Week. It was just named Road and Track's
Performance Car of 2018; Congratulations!
Decanter magazine has named Wrath
as one of the 10 Best Wineries along California's Central Coast.


We support Project Hero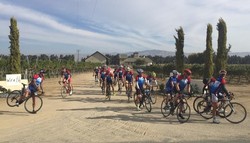 and the 150+ riders in The California Challenge, a bike ride from San Francisco to Los Angeles. The winery served as a morning rest stop on Day #2. What a great group of veterans and their support team.
Los Angeles Times has named Wrath
as one of the best wineries in California.
Karen MacNeil, noted CIA wine instructor and author,
presenting her selection of thirteen impressive California Pinot Noirs to the Canadian wine trade at the Wine Institute's California Wine Fair. Our bottle of Wrath is turned and having a "hi Mom" moment. It's proud to be part of the line-up.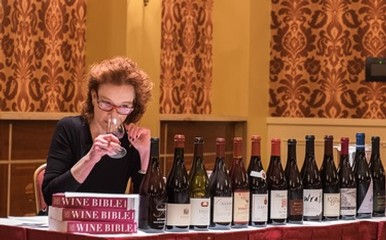 Wine Spectator's April issue
has a feature that focuses on Wrath owner Michael Thomas' excavations in southern Italy, near Pompeii. Both sides of his world combined when Michael and his team discovered the first area wine distribution center at Oplontis B, in part, by using wine industry knowledge from his work at Wrath. This article can be downloaded without subscription by clicking on this link: http://www.winespectator.com/magazine/show/id/52827. Click on the link under the issue cover with Sting and Trudie, then pan down to People and click on "Under the Volcano".
Wrath is Honored
to take part in Tuesday night's James Beard Foundation Dinner in Washington DC with our own winemaker, Sabrine Rodems, in attendance.
Corvette Stingray intro at Wrath
General Motors used the winery as a staging ground for the introduction of the newly redesigned 2014 Corvette Stingray to automotive journalists; one part of the activities surrounding Car Week in Carmel and Concours d' Elegance at Pebble Beach. From time to time, this photo pops up on the Internet so if you see it, now you know where it was taken. The old house in this photo sits at the top end of our estate vineyard.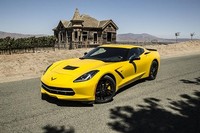 "Wrath: Taking Monterey to New Heights"
says The Wine Spectator, in an article titled "Three Wineries to Watch". The article focuses on three California wineries making a name for themselves by tackling the challenges of growing and producing Pinot Noir. We say "Thank you" to the editors of the Wine Spectator for the praise and recognition.