People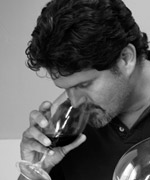 The Thomas family bought San Saba Vineyards in late 2007 and has set out to dramatically change the estate's wine and viticulture. Wrath is the brainchild of co-owner and wine director Michael Thomas. Michael works closely with his mother Barbara, Wrath's other owner.
Born in Texas, Michael graduated from Duke University and went on to receive a Ph.D. in Classical Art and Archaeology from the University of Texas at Austin. From early in his academic career Thomas was drawn to Italy, and the cultures of the Etruscan and Romans. He has lived in Rome, and has excavated in Italy for the past fifteen years. He currently runs two excavations in Italy: a Roman site near Pompeii and an Etruscan site northeast of Florence.
Michael has taught at Southern Methodist University, the University of Michigan, Tufts University, and the University of Texas at Austin, where he currently directs the Center for the Study of Ancient Italy (CSAI).
Michael's years in Italy seeded his passion for great food and wine. He used any free time to explore the restaurants, markets, and wine shops from the back streets of Rome to the hill towns of Tuscany and came to appreciate the striking regional characteristics of Italian food and wine.
Combining this passion for wine with his years of working with soil as an archaeologist, the wine business seemed like an appropriate direction. Thomas saw many similarities between the rural and fertile Salinas Valley and the dramatic countryside of Italy.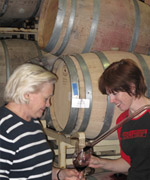 In taking over the reins at San Saba, he sought to create wines that expressed the pure flavors of varietal and vineyard. He began with an aggressive vineyard rejuvenation program, replanting large sections of the estate vineyard with Pinot Noir, Chardonnay, and Syrah. Michael directs a vineyard/winemaking team that includes winemaker Sabrine Rodems, consultant Byron Kosuge and grower Steve McIntyre.
Today, Michael, along with his wife Estelle and sons Maximilian and Balthazar, split their time between New York, Italy, Texas, and the Monterey area.