Philosophy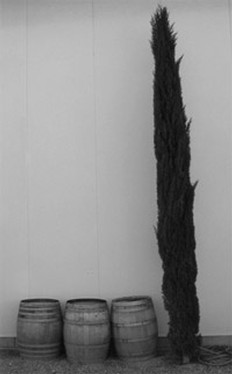 We strive to illuminate terroir. Our viticultural and winemaking methods are designed to showcase the topography, geology and climate of a finite, naturally defined piece of land. While all of our wines possess accurate varietal characteristics, their real strength is their ability to deliver the unique aromatics, flavors and textures of a specific terroir.
To help us explore terroir we've adopted a "less is more" mantra. It guides our actions and influences the style and personality of our wines. It is that recurring theme that appears in our weather, farming and winemaking.
The cool windy climate and gravelly soils of our Estate San Saba Vineyard naturally results in low yields.
Lower yields lead to greater concentration and more character in our wines.
Gentle handling during harvest and fermentation preserves fruit and site character.
Intensive grape sorting ensures only the highest quality fruit.
Minimal processing throughout the winemaking process guarantees purity and authenticity.
The use of indigenous yeast for specific lots heightens site specificity.
The minimal use of filtration retains texture and flavor.